The mission of this project is to find, pick up and redistribute more food, to charities that serve people in need, in Greece.
Especially, we will offer food to families with many children, unemployed persons, migrants and refugees, children who live in orphanages, persons with physical or mental disabilities, addicted persons, elder people who live in institutions.
In parallel, the project will strengthen FBs' capacity, and support the FBs establish cooperations and bilateral agreements with stakeholders, in order to ensure long lasting good results.
This web-page is supplementary to the proposal submitted.
People at risk of poverty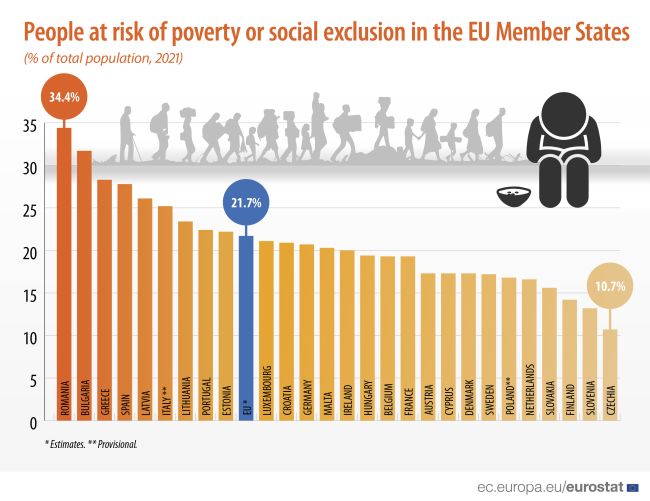 The risk of poverty or social exclusion varied considerably across the EU Member States. Romania (34.4 %), Bulgaria (31.7 %) and Greece (28.3 %) reported the highest shares of people at risk of poverty and social exclusion.
Food Insecurity in Athens
Food Waste in Greece
Food Bank's 2022 main activities.
Redistributing surplus food
Every day the FBs handle food donations, which redistribute to local charities that serve people in need. Food industries, retailers, wholesalers, local farmers and family producers offer surplus food to the FBs. The FBs know the local food needs and redistribute food through charities to people in need. In 2022, 1.876 tons were redistributed.
'Collect'
Emergency Food Fund
"Food Rescue" from the Athens Central Grocery Market
Serving the wildfire victims in Peloponnisos.
Food Bank's surveys and campaigns
Survey 2022 - Food Needs 2
The present survey is a continuation of the former one published by the Food Bank in January 2021 named "food needs in the general population". It examines the food insecurity, the characteristics of the people in this situation, and the way in which recent news affects the problem.
In the last two years, international developments have been disturbing and unprecedented. As a result, food insecurity in Greece and Europe is on the rise, and at the same time there is talk about a potential broader food crisis and how it can be alleviated. 
These future scenarios are certainly not auspicious. Increasing inflation is already affecting food prices, which are expected to go even higher since the increasing cost of energy will be passed on to the end customer. Thus, families will have to choose which expenses to cover. They will be faced with the dilemma of whether they should pay their electricity bills, buy food, heating oil, or whether they should pay their dues to the state. 
Food quantities will be limited worldwide, however there will not be any shortages in Europe. Foods that are currently on their way to poorer regions of the world will be absorbed by European countries at higher prices. Food insecurity among the lower levels of society in European countries is expected to increase, while there will be more hunger in other parts of the world, possibly causing new migratory flows, protests, political instability, riots, etc.
The study of all these factors is complicated and it certainly far exceeds the capacity and scope of a Food Bank. This issue presents the data we have gathered on food insecurity and together we express our concerns for the future. Greek society has gained experience in matters of solidarity, however there is also a sense of accumulated weariness.
Dimitris Nentas
Food needs in the general population part 2
Survey 2021 - Food Needs
'The dream' a fairy tale edited by the Food Bank
World Food Day campaign
International Day of Awareness of Food Loss & Waste
Profile video, created in 2015.
Timetable fot the actions of the project submitted.